Work with Us
How to Apply
To apply, please send a tailored CV and covering letter stating, in the subject heading, which role you are applying for to people@donaldsons.org.uk
Please note that the covering letter should be no more than 2 pages of A4 and it should summarise your relevant skills, experience and motivations for applying to and working with The Donaldson Trust.  It is therefore an important part of your application and will be used as part of our selection process.
Your CV should contain details of 2 references, one of whom should be your previous/ most recent employer.   We will only contact these if your application is successful and with your consent.
The Donaldson Trust is committed to creating a diverse and inclusive workforce.  To help us achieve this we would like you to provide us with the information requested in this Diversity Monitoring Form and return this to us with your CV and Supporting Statement.  This is entirely voluntary.  The information is held to help us monitor the diversity of people we are attracting to apply for roles at the Trust, to help us comply with our legal obligations under the Equality Act (2010) and to inform our diversity and inclusion action planning.
Our selection process
Shortlisting Stage
Once the closing date for the advertised post has passed, the shortlisting panel will review and assess all applications received. From this, the panel will agree on which candidates they would like to invite for interview.
This process will normally take no longer than 2 weeks but in exceptional circumstances, this may take longer.
When the shortlisting has been completed, we will contact the candidates we wish to progress to the next stage of the selection process. If you do not hear from us within 4 weeks of the closing date of the post, your application has been unsuccessful on this occasion.
Interview Stage
The next stage in the selection process will involve an interview and depending on the role, may include other selection methods as appropriate, such as a presentation or exercise. Full details will be included in the invitation to attend for interview. You will normally be given at least one week's notice to prepare for this.
If you are invited to attend an interview, you will be asked to confirm your attendance as soon as possible. Should you be unable to attend on the date or time scheduled, please contact us at the earliest opportunity.
Post-Interview Stage
After the interviews have taken place and the panel have made their decision, the outcome will be communicated as soon as possible to all interviewees, normally within 5 working days of the interview.
The initial offer of appointment to the successful candidate will be made by telephone in the first instance and followed up in writing. Unsuccessful candidates will be notified by email and feedback will be provided on request.
Any offer of employment is subject to the satisfactory completion of pre-employment checks.
Should you have any further questions regarding the selection process, please refer to our Recruitment FAQs in the first instance.  If you have any remaining queries please contact us via email: people@donaldsons.org.uk  or alternatively by telephone on 01506 841900.
Why the Donaldson Trust
At the Donaldson Trust, our ambition is to be at the forefront of supporting and developing policy for children and young people with neurodiversity in Scotland, and to deliver every day in a way which ensures we are focused on positive outcomes and can continue to increase the range of support and development opportunities we offer. We work as one organisation to ensure our relevance, vibrancy and sustainability.
Protecting Your Data
Any data that you provide us as part of our recruitment process will be held securely.
Access will be restricted to those who need it for the purposes of dealing with your application and the selection process.
Anonymised personal data may also be used for purposes of monitoring the effectiveness of the recruitment process.
Click here to view our Job Applicant Privacy Notice.
Disability Confident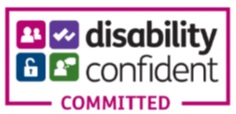 The Donaldson Trust is Disability Confident Committed. If you consider yourself to be disabled in terms of the Equality Act 2010 and you also meet the essential criteria for the role you are applying for, you will be guaranteed an interview. Please let us know when submitting your CV and supporting statement if this applies to you and you would like to claim a guaranteed interview.
The Equality Act states that a person has a disability if they have a physical or mental impairment and that impairment has a substantial and long-term adverse impact on their ability to carry out normal day-to-day activities. Further guidance on the meaning of disability is accessible on the Equality and Human Rights Commission website
If you need any reasonable adjustments, we will make these throughout the recruitment process. Please contact our People Team people@donaldsons.org.uk to discuss how we can support you appropriately at any stage of the process.
Recruitment FAQs
How do I submit my application?
Please send a tailored CV and covering letter stating, in the subject heading, which role you are applying for to people@donaldsons.org.uk.
What should my covering letter include?
Your covering statement is an important part of the selection process and is your opportunity to explain why you consider that you are a suitable candidate for the role and what your motivations are for applying. You should summarise in this covering letter your relevant skills, abilities, and experience, with reference to the requirements of the role.
Your covering letter should be no more than 2 pages of A4.
Can I receive feedback if I have not been invited to attend for interview?
As we receive a high volume of applications, we are unfortunately not able to provide feedback on unsuccessful applications at shortlisting stage. All applications received are scored against the criteria detailed in the role profile and the candidates who scored the highest are those invited to attend an interview.
Where will interviews be held?
Interviews will normally be held onsite at our campus in Linlithgow. Your invitation to attend for interview will provide full details.
I am unable to attend on the date scheduled for interview – can I rearrange?
If you are unable to attend on the date or time stipulated in your invitation to attend interview, please email people@donaldsons.org.uk at the earliest opportunity. We will endeavour where possible to rearrange dates, but this will depend on the availability of interview panel members.
Will my references be contacted if I am invited to attend an interview?
No, references will only be sought for the candidate who is successful at interview and this will only happen after the job offer has been accepted and consent has been given. It should be noted that all offers of employment with the Trust are subject to receipt of satisfactory references.