Appointment of New Chair of the Board
The Donaldson Trust is delighted to announce the appointment of Sean Duffy as our new Chair of the Board.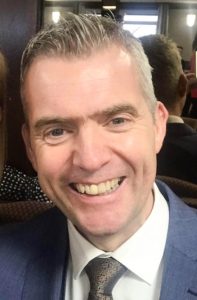 Sean joins the Trust at an exciting time in our journey, as we continue to establish ourselves as the National Body for Neurodiversity and as we launch our two new dynamic services for people with neurodiversities; Gate, our wellbeing and skills development service for adults age 16+, and Vibe, our wellbeing and learning service for young people aged 12-18.
Laura Watkins, the Trust's CEO, said, "Sean is a great addition to our Board and I look forward to working alongside him as we continue to extend our services and reach in order to develop a progressive understanding of neurodiversity and, as a result, improve the experiences of neurodivergent people throughout the UK. Sean's considerable governance expertise aligns strongly with the Donaldson Trust ethos and values. This appointment is clear recognition of the Trust's desire to continue to innovate, and integrate different sectors while ambitiously and constructively championing Neurodiversity across government and society."
In his role as Chair, Sean will ensure continued high quality governance supported by the Board of Trustees, which will enable the Executive Leadership Team to further develop the Trust as the National Body for Neurodiversity.
Sean Duffy added, "I'm truly delighted to have been appointed as Chair of this wonderful organisation, it is an immense privilege to play a part in positively supporting improved understanding of Neurodiversity within education, business, research and policy. In recent times, Neurodiversity has gained much cultural resonance and I'm looking forward to being part of the Donaldson Trust's journey. I'm particularly excited about continuing our work with a range of partners across Scotland to further expand collaborative activities that relate to advocacy, social, health and educational policy, as well as international research."
Sean is a positive, dynamic and innovative Third Sector leader who has a track record of building values based partnerships that focus on expanding impactful collaborations to improve some of the most significant challenges in our society. He is currently Chief Executive of the Wise Group, where he has led a successful technical, cultural and financial transformation. He has served on a number of boards throughout his career and brings a wealth of leadership and strategic experience to the Trust.
Please join us in congratulating Sean on the new position.
You can find more information on The Donaldson Trust and the new Gate and Vibe services here.